Memorial Day Starts the Summer Season with the Holiday to Honor Those Who Gave Their Lives for Our Country.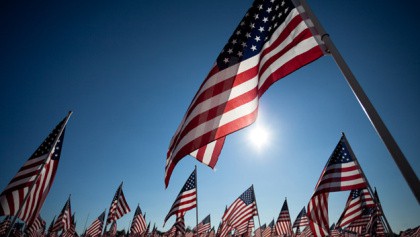 Did you know that Memorial Day used to be called Decoration Day? No matter what it's called, the holiday weekend is here with the unofficial start of summer. Is your home clean and ready for what could be a great summer of fun, food and entertaining? Our technicians are busy helping your neighbors with their pressure washing needs. However, we have a few holes in the cleaning schedule. If we can't get to your house before the Memorial Day activities in Pasadena, we will be there before summer's June kickoff.
Why Extreme Clean?
The techs at Extreme Clean Power Washing are THE pressure washing experts in the greater Pasadena, MD area</strong>. They are trained to clean away the black streaks on your roof. The techs are trained to clean the algae and grime that covers your siding, deck and patio. They are trained to return your concrete walkways and driveway back to their original pristine look. They are also trained in the art of softwash, because it is safest method of pressure washing surfaces without damage. Our techs are even trained to clean up any job mess. This makes customers glad they trusted us with their project.
Many people wait until the hot, humid weather is here before thinking about summer activities. Right now, you have several weeks before the big rush of everyone who waited. Just think about how much more you will be able to relax knowing your home is in great shape for summer. Then, you can truly let go and just enjoy the summer with a freshly power-washed home.
Using the softwash technique of gentle detergents and pressurized water — and NOT high-pressure water flow — we wash away the dirt, grime, stains, mildew, algae etc…. We've heard too many stories or untrained techs and homeowners blasting away dirt and damaging their home. Don't be another such story!
Memorial Day Facts
Did You Know: Memorial Day is Monday, May 27, 2019. The holiday began after the American Civil War in 1868, when the Grand Army of the Republic, an organization of Union veterans established it. It was started as a time for the nation to decorate the graves of those who died in the war. By the 20th Century, competing Union and Confederate holiday traditions merged and Memorial Day honored all Americans killed while in military service.
From everyone at Extreme Clean Power Washing in Pasadena, MD, we say "thank you" for all who have served to protect and defend our nation.
Contact Us
If you would like to schedule a pressure washing appointment, contact us by clicking here. If you prefer to talk to us, call our Pasadena, MD office at 443-891-6109. Our techs work throughout the greater Anne Arundel County area, including Lakeshore, Gibson Island, Bowie, Severna Park, Arnold, Gambrills, Crofton, Glen Burnie, Annapolis, Severn and Crownsville.
Click here if you would like to read our Facebook Reviews.