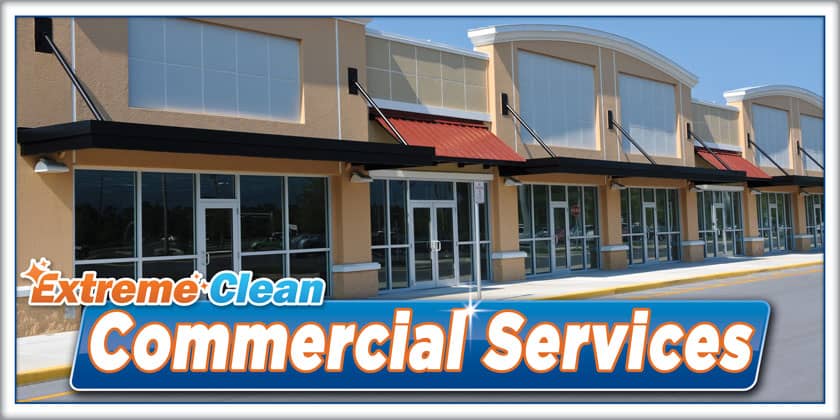 Commercial Pressure Washing Services
Commercial Buildings owners in Pasadena, MD area are proud to have Extreme Clean provide them with the best solutions in pressure washing services. We've been trusted to use innovative equipment and quality cleaning process to clean buildings and sidewalks, wash away dirt, grime, pollution, bird droppings, insects, mold, mildew, bacteria, and spills. Let us help make your commercial property like multi-family, retail, office and industrial properties safe and more captivating for a productive environment.
Make A Good First Impression
A dirty and unkempt business environment is a turn-off for clients and employees. At Extreme Clean, our ground-breaking commercial pressure washing services will help you make a great first impression that can lead to an overwhelming shift in outcomes.
Over the years, we've made a name for ourselves by providing quality pressure washing services for all exterior surfaces of commercial, industrial as well as municipal and common areas in communities.
Click here to read about On-Target Performance
Outstanding Results 
Most times, weather, traffic, and other circumstances tend to have adverse effects on our working or home environment. Extreme Clean professionals have been helping Maryland business owners restore the beauty and shine of their business with our commercial pressure washing services. We work tirelessly to ensure you get a clean place of business that is attractive to customers and at the same time safe for employees.
Customer Testimonial
"We have had our home power washed by three different companies in the 11 and a half years that we have lived here, but none have come close to the job that Extreme Clean did. Chris saw that our siding was oxidized and explained to us what needed to be done to do the job right. Our house looks like we have new siding and the trim looks freshly painted. We couldn't be happier. Thanks Chris!" – Barry Pyle
We are grateful our pressure washing customers trust us to do good work and then let us know we achieved our goal. Our technicians hope for the chance to serve you — the potential customer — and that you will feel the same way. Read more reviews on our Facebook page. We hope to serve you and inspire you to leave a nice comment.
Pressure Washing Service Areas in Maryland
Extreme Clean Power Washing Services cleans commercial buildings in Pasadena, Annapolis, Bowie, Gambrills, Severna Park and Crofton. We also do house washing, roof cleaning and gutter cleaning and brightening in these areas.
Contact us today for a FREE Estimate, and to learn more about the Commercial Pressure Washing services offered by Extreme Clean.
See us in action on one of our many commercial projects!
Click on an image for a larger version:
Extreme Clean Power Washing Services LLC
Chris Kunze – Owner
8414 Bussenius Road
Pasadena, MD  21122
443-891-6109