Clean gutters to keep away mildew, algae and other harmful elements.
Rain, rain go away…well, we know that song has never really worked, especially during a wet spring season. But the rainfall is more than just washed out weekends and long gray days. Most people in the greater Pasadena, MD area likely never think about the one thing on their house that could cause REAL headaches; the gutters.
Many may hear the rain on the roof and never think about the amount of water running into the gutter system. They don't think about it, that is, until the water is running OVER the gutters, finding its way inside the house. However, they will think about it once fungus starts growing and causing other issues, since that's what it does so well.
Possible Health Problems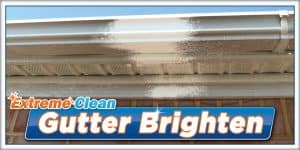 The professionals at Extreme Clean Power Washing in Pasadena, MD know how important it is to keep gutters clean and functioning at a high level. This is why they offer gutter cleaning as part of their service. They know that mildew and other fungi can cause health risks, such as severe allergies that result in respiratory distress. Among the worst problems can be the triggering of an asthma attack in someone afflicted with the condition. For most, it is simply the need to get medical assistance from an inhaler. More severe asthma cases can cause hospitalization or even death.
In addition to health concerns, misdirected rain water can damage to your home's structure. The wood behind the gutters can rot. The house's exterior walls can be damaged. And, if the water continues to pool around the base of the house, the foundation can be compromised.
Extreme Clean's techs will make sure the gutters are clean inside and out. Many homeowners are amazed by the house's transformation, since the gutters are the "frames" to sections of a home. And, if you're selling your home, you can bet prospective buyers will notice. It could be the difference in the first impression from the curb.
For more information on the importance of clean gutters, click here for an article from another trusted source.
Contact Us
If you would like to schedule a spring pressure washing of your home, contact us by clicking here. If you prefer to talk to us, call our Pasadena, MD office at 443-891-6109. Our techs work throughout the greater Anne Arundel County area, including Lakeshore, Gibson Island, Bowie, Severna Park, Arnold, Gambrills, Crofton, Glen Burnie, Annapolis, Severn and Crownsville.
Click here to peruse our Facebook Page.
Extreme Clean's techs use the softwash technique of gentle detergents and low water pressure. This approach is the safest way to make your home really shine, and practically guarantees no damage to any surfaces.